How do I use interactive graphs?
Some reports provide interactive graphs for PRO members.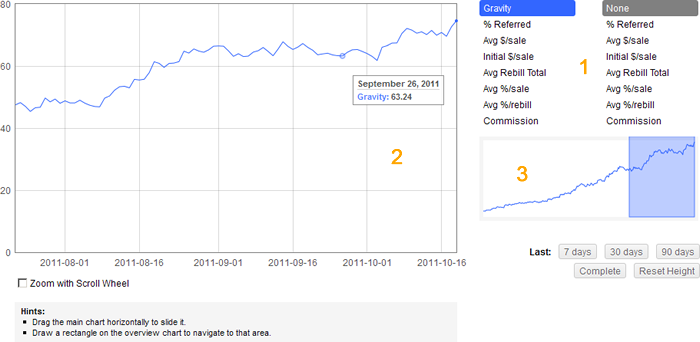 Such graphs consist of 3 parts:
1. The control panel (on the right). Here you can set which stats are displayed on the main graph (up to 2).
2. The main chart (on the left).
When you move your mouse over it, you see the actual values of the set stats.
You can drag this chart horizontally to slide it.
If the 'Zoom with Scroll Wheel' mode is enabled, you can use the Scroll Wheel to zoom in/out.
3. The overview chart (on the right) that shows you which region is currently displayed on the main chart.
You can draw a rectangle on this chart to navigate to that area.
The overview chart is bound to the first set statistic.
As well, there are some useful buttons below the overview chart. They help you:
to navigate to the last 7, 30, 90, 365 days;
to display the complete time period;
to reset the height of the charts to cover all data of the first statistic.
Useful Knowledge

CBGraph Usage

Need more help?

Contact our support team at cbgraph@gmail.com and we'll personally get back to you as quickly as we can.

For Order Support, please contact ClickBank

HERE

.