How can I move vendors from one folder to another?
When you are browsing the contents of any folder:
1. Tick the checkboxes near the vendors you want to move to another folder.

2. Above or below the results, press the 'Move To' button and the list of your folders will appear.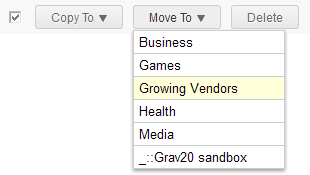 3. Choose the folder to which you want to move the vendors and click on its title.
Useful Knowledge

CBGraph Usage

Need more help?

Contact our support team at cbgraph@gmail.com and we'll personally get back to you as quickly as we can.

For Order Support, please contact ClickBank

HERE

.