How do I create a new folder?
To create a new folder:
1. Activate the 'Folders' control.

2. Press the 'New Folder' button.

3. Input a title of the new folder. The title can be up to 64 characters long.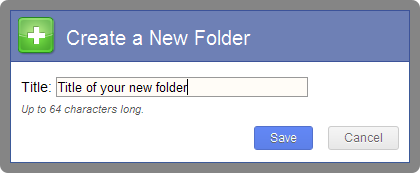 4. Press the 'Save' button.

Useful Knowledge

CBGraph Usage

Need more help?

Contact our support team at cbgraph@gmail.com and we'll personally get back to you as quickly as we can.

For Order Support, please contact ClickBank

HERE

.