How do I use the 'Order By' control?
The 'Order By' control is located at the top left corner, below the main menu. It is used to change the order of the ClickBank Marketplace results.
This control consists of 3 parts:
The selection of

the set of orders

(such as ClickBank Marketplace, Movers & Shakers, Growing Vendors).
The selection of

the actual order

(from the chosen set).

The type of the order

: from High to Low values or vice versa.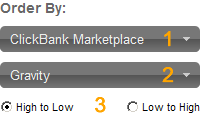 Useful Knowledge

CBGraph Usage

Need more help?

Contact our support team at cbgraph@gmail.com and we'll personally get back to you as quickly as we can.

For Order Support, please contact ClickBank

HERE

.